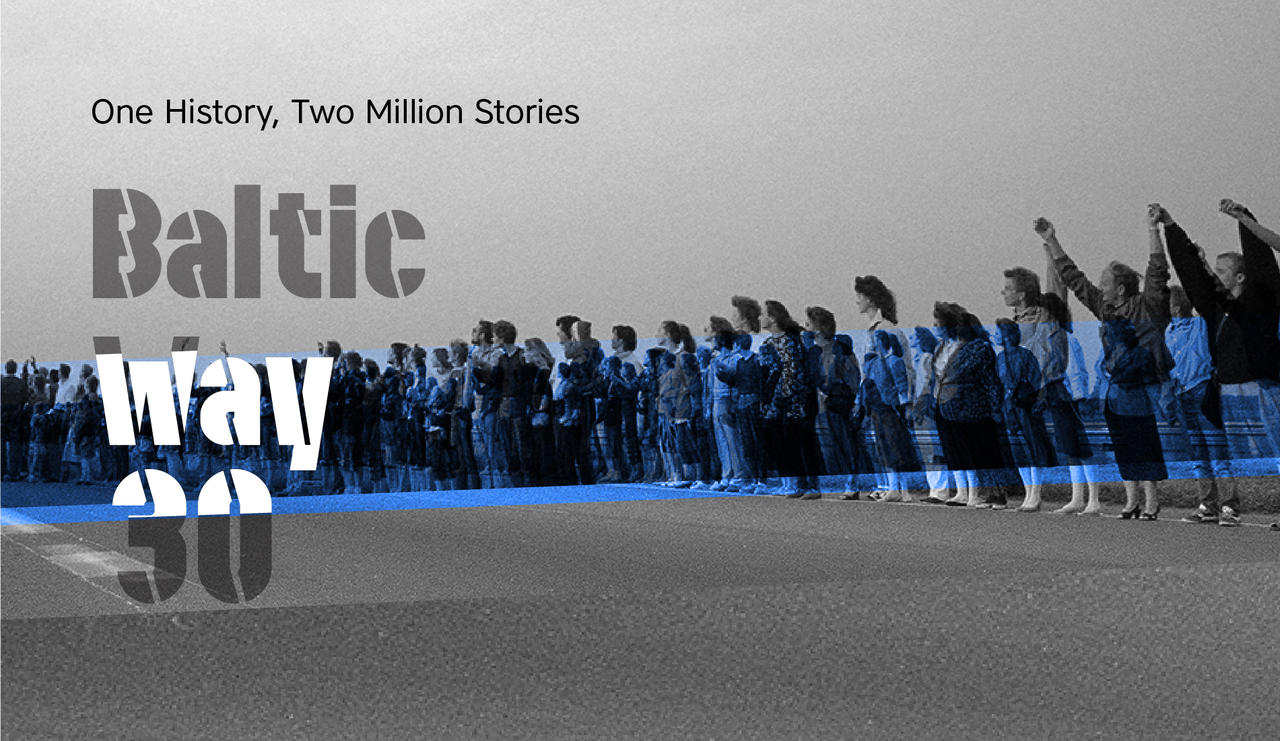 This year marked three decades since an extraordinary event: the Baltic Way. Protesting against the Molotov-Ribbentrop Pact, nearly two million Estonians, Latvians and Lithuanians took part in the event. By 7.00 pm on the evening of the 23rd of August, 1989 an unbroken human chain stretched all the way from Tallinn to Vilnius. It remains one of the largest peaceful protests the world has ever seen. The way was a symbol of the three nations' yearning for freedom and paved the way for the liberation of Eastern Europe.



Vabamu's immersive exhibition at Telliskivi Creative City - Telliskivi 60a/5, Tallinn
Baltic Way 30. One History, Two Million Stories
This exhibition is a moving experience showcasing the human chain that stretched, unbroken, for 600 km from Tallinn via Rīga to Vilnius on 23 August 1989. Based on the stories of ordinary people who took part, the exhibition employs a landscape of sound and memory to take visitors on a thought-provoking historical journey that speaks of a yearning for freedom. Taking place in a hitherto undiscovered cultural corridor that stretches for 50 metres through Telliskivi Creative City, the exhibition recreates the events of that day in Estonia in chronological order and tells stories of people summoning up courage and taking the reins of responsibility for their own freedom.

Dedicated to the 30th anniversary of the Baltic Way, the temporary exhibition will open exactly three decades after the historical event.

The exhibition will be open from 12:00-18:00 every day until the end of November.


Ticket 4€
Discount Ticket 3€

Entrance on Telliskivi 60a/5



You can listen to the audio stories from the exhibition here.

'Baltic Way 30: One History, Two Million Stories' has been created by the Vabamu Museum of Occupations and Freedom in cooperation with the Government Office, the Ministry of Foreign Affairs and the Ministry of Culture.




The 23rd of August, 1989 and the Baltic Way... It wasn't a question of whether we'd take part, but how we'd get there. (Chapter – 4 Iiris)



Tell us your Baltic Way story!
What were you doing while the Baltic Way was taking place? If you have a story to tell about the event or would like to donate an item related to it, e-mail the Vabamu Museum of Occupations and Freedom at
info@vabamu.ee
. All materials will be recorded and preserved so that future generations can relive this turning point in the history of the Baltic States.